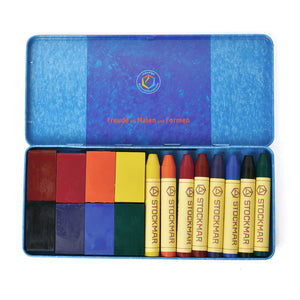 The Beeswax Crayons have outstanding drawing properties and appeal to the senses. 
Whether drawing, painting, generously applying, layering, scraping, and melting colours, Stockmar Wax Crayons promise years of pure drawing pleasure. Outstanding drawing properties (no crumbling, sticking, smudging etc) and non-toxic, these
 high quality Stockmar Crayons are widely used in Waldorf schools worldwide. One box of these high quality crayons will last until your child is grown! The addition of 10% natural beeswax gives these crayons transparency, allowing colors to layer beautifully, and adds a pleasant beeswax scent.
Tin case and Scraper

8 blocks and 8 sticks
Made in Germany